DISCOVER THE BENEFITS OF TREATMENTS
Treating your lenses keeps daily annoyances to a minimum. It's an effective and sustainable way to reduce cleaning and undesirable effects from the sun, as well as soothe eyes that spend long hours in front of a computer screen.
Nowadays, most of the antiglare treatments sold by vision professionals ensure superior clarity. However, the difference between a basic antiglare treatment and a first-quality treatment (or Crizal) depends on its durability and ease of maintenance. Our Crizal treatments all have an "easy clean" coating that reduces the number of daily cleanings by at least half.
Treatment option:
See the comparative table
+
Avantages d'un verre traité antireflets
AR de base
Ar Crisal
Réduit la fatigue visuelle
Réduit les reflets de l'écran d'ordinateur
Améliore la vision de nuit
Moins de reflet secondaires des fluorescents
Aspect plus esthétique
Vision plus claire et nette
Résistance aux rayures
Protection contre les rayons uv

Recommendé

Résistance aux rayures supérieure

Recommendé

Facilité d'entretient (Easyclean)

Recommendé

Couche résistante à l'eau et au gras

Recommendé

Couche antisalissure
A lens that is CLEARER indoors and DARKER outdoors.
The brand-new Transitions® SignatureTM is the latest in photochromic lenses. These lenses tint more quickly than in the past and return to total clarity indoors.
The reaction occurs when the lenses are subject to UV rays. They therefore tint very little in the car, because the windshield blocks the UV.
Transitions® SignatureTM lenses are suitable for almost all prescriptions. They offer complete protection against UVA and UVB.
Treatment option:
The Xperio option represents the SUN option. Xperio sunglasses offer UV protection and higher performance colours adapted to your conditions of use. See the chart to discover the benefits of each colour.
In addition, the Xperio polarized treatment reduces the adverse effects of glare on reflective surfaces, such as water and snow. The result is clear: less eye fatigue. The Xperio option:
Eliminates 100% of dazzling glare
Offers better UV protection, equivalent to SPF 50+
Resists scratches about 3 times better than lower-quality polarizing lenses.
Gives more vibrant and brighter colours
Is easy to maintain
Treatment option:
Physiotints
Xperio uv polarized
Blocks 100% of harmful UVA/UVB rays
Exposure to the sun's harmful rays causes blindness in 3.2 million people every year. This is why we attach such importance to UV treatments. We include them automatically in most of our lenses. UV treatment:
Protects the skin of the eyeline against premature aging
Protects the different parts of the eye
Reduces the development of cataracts
Treatment option:
See the CRIZAL comparative table
+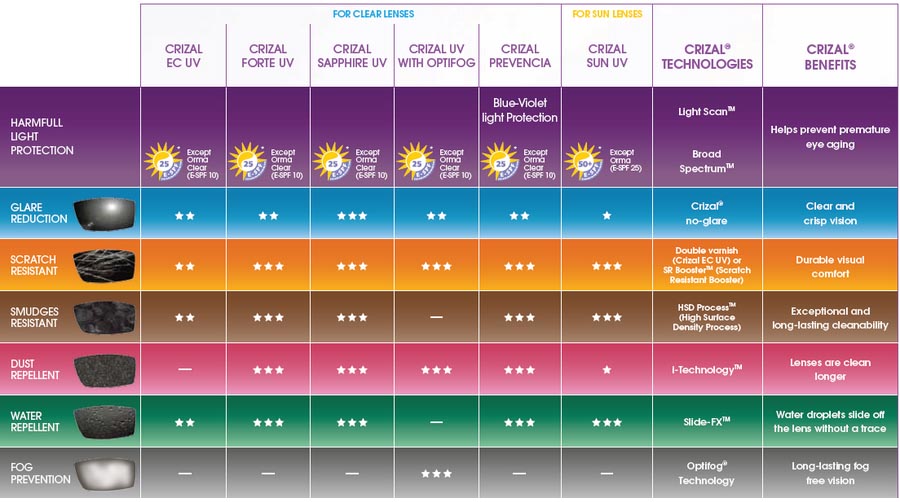 In the past few years, the use of tablets, smartphones and LED TVs has increased exponentially. It is observed that prolonged exposure to blue light can have harmful effects on the retina and result in macular degeneration.
This treatment cuts down such blue rays and relaxes the eye. We will strongly recommend it for COMPUTER GLASSES.
Treatment option:
See the CRIZAL comparative table
+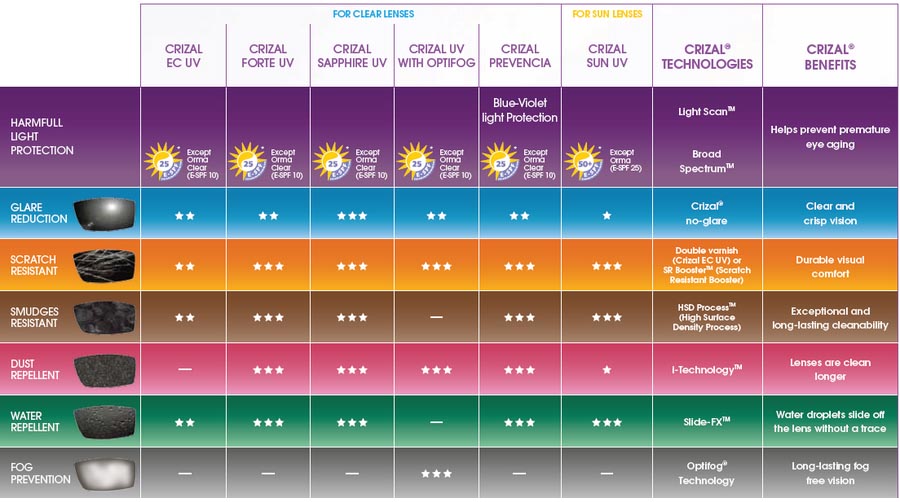 Up to now, the best option against fog! The Crizal OPTI-FOG treatment almost completely eliminates fogging of lenses. Maintenance is simple and the advantages are considerable if you work in cool and humid places or if you have to go indoors and outdoors frequently in winter.
Treatment option:
See the CRIZAL comparative table
+