"For your eye care routine to be truly effective, it must be performed daily, on an ongoing basis!", explains Isabelle Rouleau. Many people with chronic dry eye think that they should only take action when they experience dry eye symptoms and their eyes are inflamed – but that's not the case! If simple actions are repeated daily, they can be very effective in controlling dry eye symptoms and avoiding the inflammatory stage.
Habit #1: make hot compresses
How? Apply a heating mask.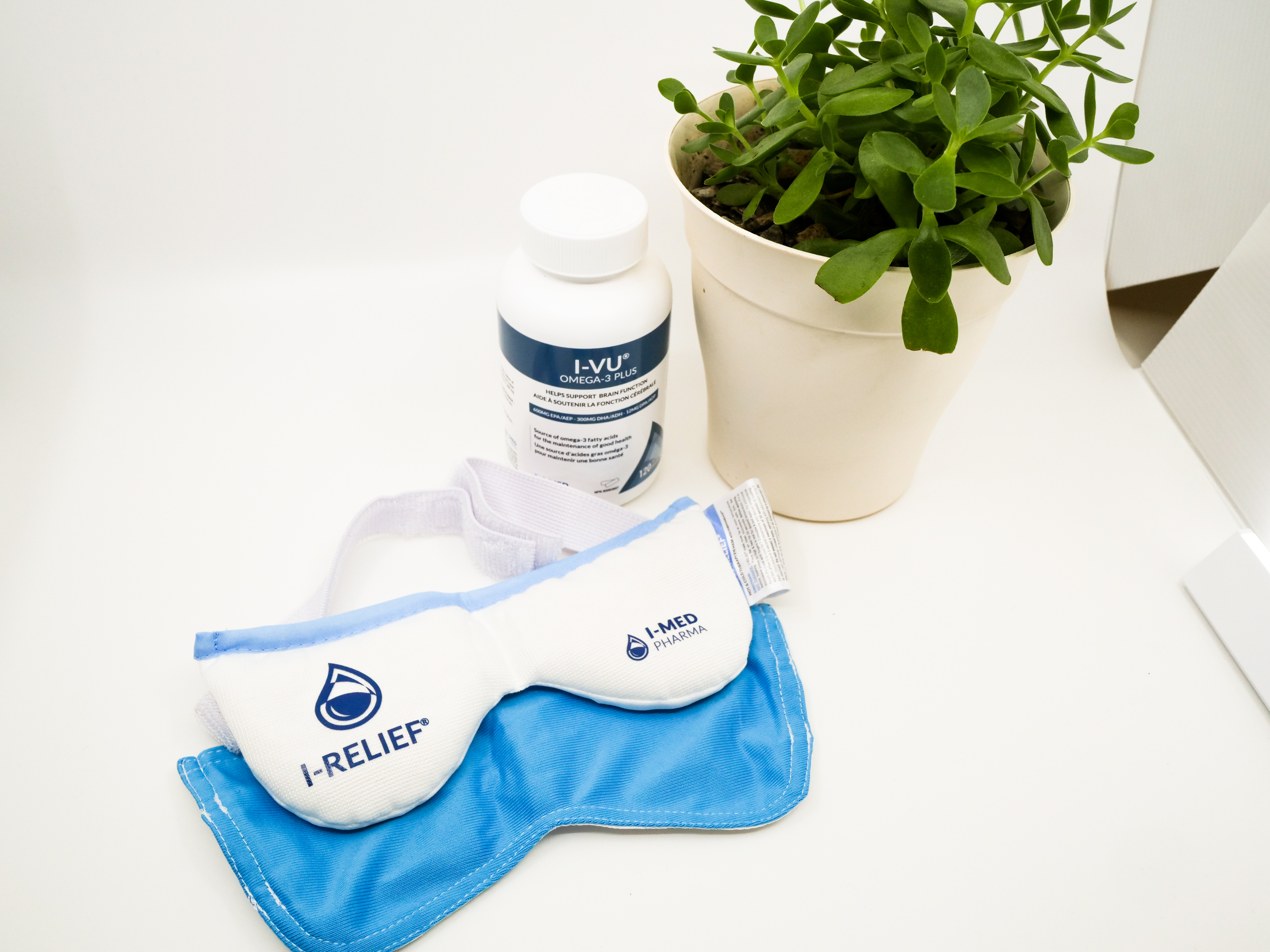 Why? When you suffer from chronic dry eye, it's usually because your eyes are inflamed. When this happens, the Meibomian glands, which are responsible for producing the oil that makes up part of our tears, can atrophy. This phenomenon often occurs because we blink much less when we are in front of a screen (70% less!), which means that our glands are not stimulated enough. The oil "freezes" and becomes pasty, keeping the gland from functioning properly. This creates inflammation and eventually, the glands atrophy.
To reduce inflammation, the paste must be softened and even liquefied, so that the glands in the eyelids start working properly again. This can be done by applying heat for 5-10 minutes at a temperature of 40 to 41.5 degrees Celsius.
While a warm washcloth can be effective for a few seconds, it does not maintain a high temperature, and will not provide enough heat to achieve your goal. This is why a heated therapeutic mask will make all the difference.
How often? 5 to 10 minutes, twice a day.
Recommended product: I-RELIEF ™, the hot & cold therapy eye mask by I-MED Pharma.
Contains THERMABEADS ™ and releases humid heat which stimulates oil production in the eye, improves blood circulation and helps reduce tear evaporation.

Relieves symptoms of dry eyes, but also styes, chalazions, blepharitis and headaches.

Can be heated in the microwave. Reusable and durable. Sold with a washable fabric cover.
Habit #2: clean your eyelids
How? With eye cleansing wipes.
Why? Every day, debris (such as bacteria, scabs, dust and even pollution) gets lodged between our eyelashes and can obstruct the entrance to the Meibomian glands or cause eyelid problems, such as styes. By having impeccable eyelid hygiene, we make sure that no debris gets stuck at the base of our lashes, and we also avoid destabilizing our tear film.
This is especially important if you wear makeup, since makeup can clog the glands and lead to various problems such as styes, ocular dryness or blepharitis. Cleansing wipes can also be used to remove makeup daily before bedtime.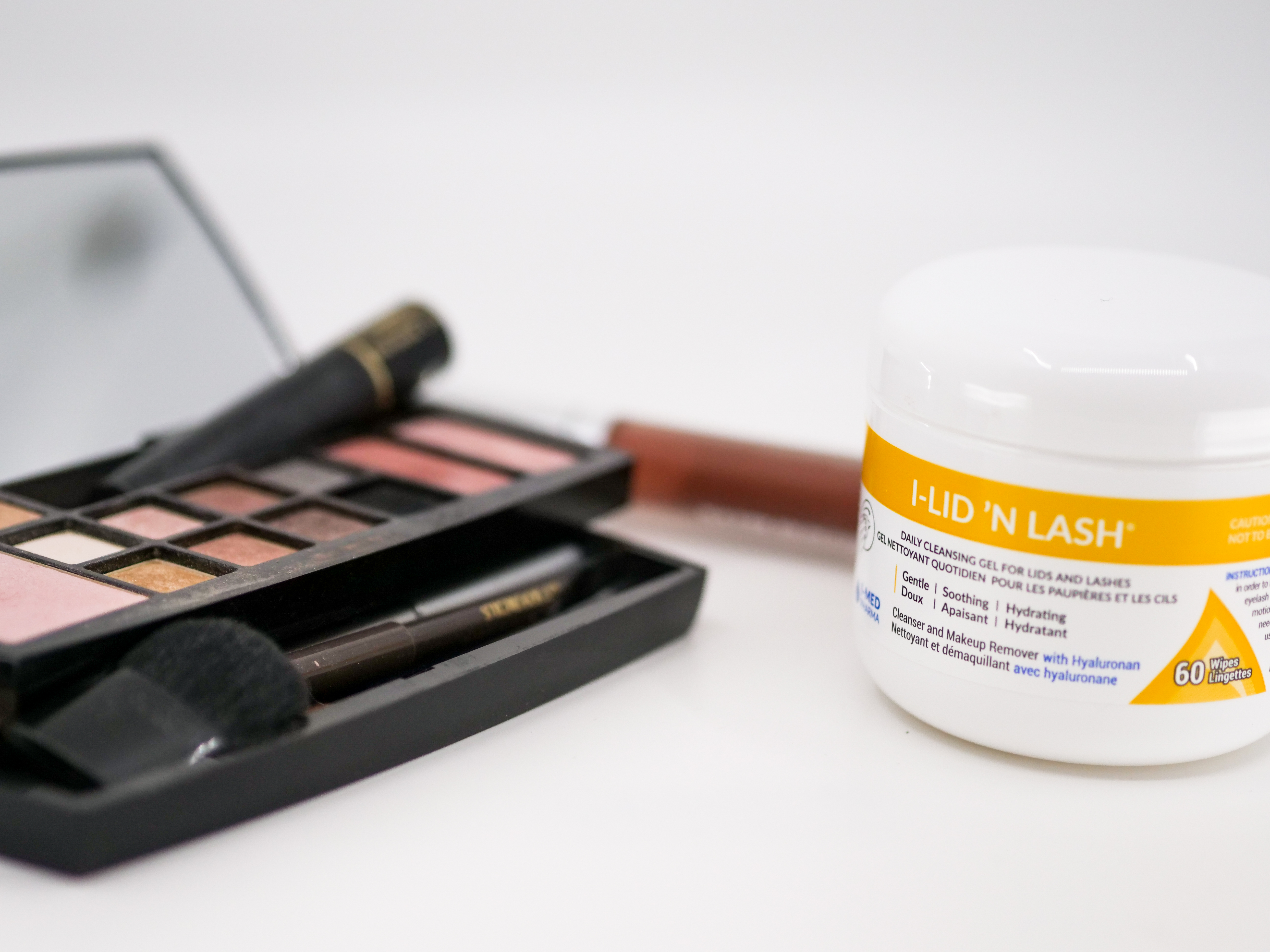 How often? At least once a day, in the evening. For people affected by blepharitis, washing your eyelids should be done twice a day, in the morning and in the evening.
Recommended product: I-LID 'N LASH® wipes by I-MED Pharma
Cleanses eyelids and eyelashes, removes eye debris and does not irritate the skin, even if you have sensitive skin.

No-rinse formula. Contains hyaluronic acid for hydration. Eliminates bacteria. Contains no parabens or alcohol.
Habit #3: using artificial tears
How? With artificial tears containing no preservatives.
Why? Good quality artificial tears can prevent irritation in the eye. If you are suffering from dry eye, we recommend using drops without preservatives. Preservatives, when used several times a day, can lead to destabilization of the tear film. A product that contains hyaluronic acid will also be very beneficial, as it adheres to the eye's surface more successfully. Its viscoadaptive property will retain tears more effectively and prevent their evaporation. In more severe cases of dry eye, you may also need to use an ointment such as I-DEFENCE®, applied at bedtime.
How often? For artificial tears to be really effective, you need to use them 3 to 4 times a day, every day. If you wait until your eyes hurt, the inflammation will already have set in. And when you use drops at the inflammatory stage, it can take up to two weeks for the situation to resolve – in some cases, you will need to use corticosteroids! It's obviously preferable to use drops on an ongoing basis and maintain control over the inflammation in your eyes so your condition does not worsen.
Recommended product : I-DROP® artificial tears by I-MED Pharma
Available in 3 different product types:

I-DROP® PUR

(compatible with contact lenses),

I-DROP® PUR GEL

(for moderate dryness) and

DROP® MGD

(for chronic and severe dry eye)

Contains hyaluronic acid which helps hydrate and lubricate the cornea, while reducing evaporation of the tear film.

Equipped with a self-sterilizing tip. Preservative-free, but will keep for 12 months after opening!
Habit #4: taking Omega-3
How? By taking high-quality food supplements.
Why? Taking Omega-3 helps reduce inflammation in the long term, as it tends to slow Meibomian gland dysfunction. By choosing a high-quality formula, you make sure that the Omega-3s are absorbed by your body. You also avoid having an unpleasant fishy aftertaste in your mouth after taking it!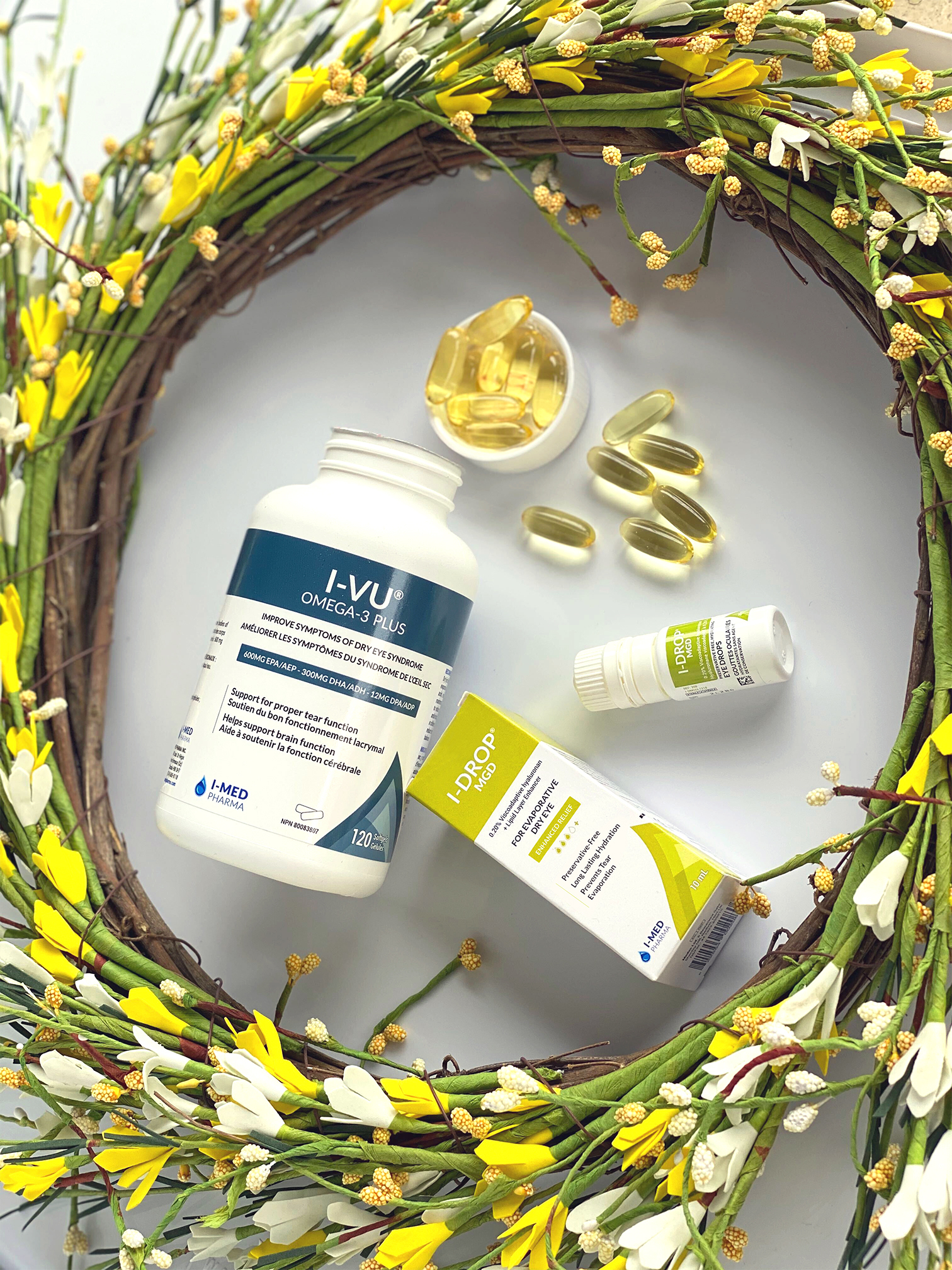 How often? Daily, as recommended by your optometrist. You will feel an improvement after 3 months of treatment.
Recommended product : I-VU® OMEGA-3 PLUS by I-MED Pharma
Easy to digest and swallow, tasteless.

Highly purified and concentrated, guaranteed GMO-free.

Scientifically formulated. Approved by Health Canada.
Are you ready to take care of your eyes?
Don't hesitate to visit your nearest Doyle store and discover I-MED Pharma's line of products. Based in Montreal, I-MED was founded by Ilan Hoffman over thirty years ago, and has been dedicated to developing products for diagnosing and treating dry eye disease ever since.
You can also book an appointment with one of our optometrists to discuss your options for regaining control of your dry eye symptoms. Other treatments, such as the use of corticosteroids, or IPL and LLLT, may be necessary to reduce inflammation in your eyes.