But why get a pair of sport sunglasses? Vanessa Sansregret, associate optician and Camille Leblanc, optometrist at the Doyle boutique in Joliette, share 4 good reasons to choose this comfortable, made-to-measure accessory.
#1: Protect your eyes from the sun
"Sunglasses are to the eye what sunscreen is to the skin!" explains Dr. Camille Leblanc, optometrist. They protect the eye and its appendages from exposure to UV rays, which can not only cause damage to the skin around the eyes and eyelids, but also damage several internal structures of the eye, including the cornea, lens and retina. Protecting your eyes from the sun is just as important in cloudy conditions, as some UV radiation persists.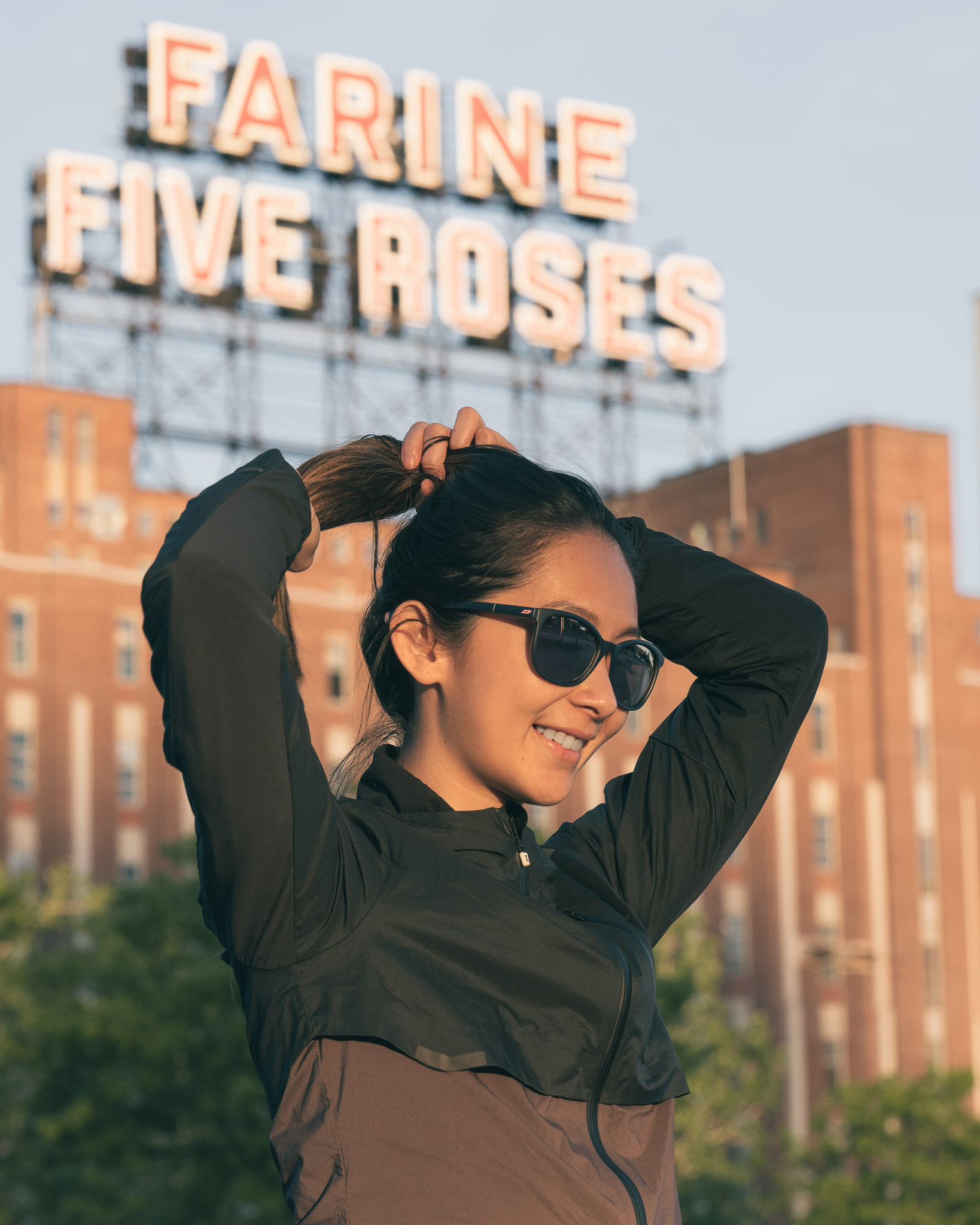 Prevent unwanted effects
Protecting your eyes effectively from the sun helps prevent the onset and/or progression of certain eye conditions, for example:
Growths in or near the eye

, such as pterygium, pinguecula, cancerous or atypical lesions

Photokeratitis

, which is the equivalent of sunburn to the eye

Certain types of

cataracts

Age-related

macular degeneration
Wearing sunglasses also helps prevent premature aging of the skin around the eyes and changes in pigmentation, on top of slowing down the appearance of wrinkles.
Look for UV400
When you shop for sunglasses, make sure to choose a model that is certified UV400 to get the best protection for your eyes. Here at Doyle, all our sport sunglasses are UV400. Also, note that, "The darkness of the lenses is not an indicator of their ability to block UV rays!", warns Dr. Leblanc.
#2: Choose a solution that is well-suited to your favourite activity
"In addition to offering UV protection, sport sunglasses can be adapted to the activity you practise," explains Vanessa Sansregret. You won't choose the same frame and the same lenses if you plan to hike in the woods or if you go water skiing!
For water lovers
If you like water sports

, you'll want to make sure your glasses have a hydrophobic treatment! Water will run over the lenses instead of adhering to it, ensuring that you have good vision at all times. This treatment allows better evacuation of the water from the surface of your lenses.

Grey polarized lenses can also be a good option.

If you are sensitive to the sun, you will enjoy these — especially if you are boating — since the polarizing filter reduces glare from the water.

Some styles of sport sunglasses also

float

because they are injected with air, such as Julbo's

Paddle frames

— it's a perk that most water sport fans greatly appreciate!

You can also opt for an

oleophobic treatment

, which will make cleaning your glasses easier.

For altitude fans
Certain sport sunglasses come with removable shields, to prevent the sun from entering sideways, like Julbo's Montebianco 2 frames. You can also consider opting for:

JS541 Montebianco 2 / Julbo / 159$
Photochromic lenses with a tint of 2 to 4.

Thanks to photochromic lenses, you can wear the same pair of sunglasses from morning to night and always see clearly, because the tint of your lenses will adjust to the ambient brightness. When it is daylight, the glasses will be more tinted (4) and when the sun goes down, the tint will gradually change (from 3 to 2).

Polarized lenses, to block horizontal rays.

You should know that the intensity of UV radiation varies depending on the altitude! The higher you are, the more intense it will be.
For forest lovers
If you spend a lot of time in the woods, you'll probably enjoy yellow-tinted lenses, as they will ensure that your vision is as clear in the forest as it is under the sun. You will also want to consider:
Photochromic lenses with a tint of 1 to 3.

Choosing photochromic lenses will allow you to keep the same pair of sunglasses on throughout your hike and have good vision the whole time — whether you are in the heart of the forest or in a meadow, under the sun.

Cords or hooks,

to keep your frame securely in place, especially if you are cycling or running.

Polycarbonate lenses,

because they are very lightweight and offer good resistance to shocks.

A

light, well-ventilated frame,

like Julbo's

FURY

sunglasses or Nike's

Windshield

frames.

JS531 Fury / Julbo / 169$ et Windshield M CW4663 / Nike / 219$
For golf enthusiasts
If you're the kind of person who takes out their golf clubs when the snow hasn't completely melted yet, you might want to get Maui Jim sunglasses this summer, like the HT755 frames, with brown or green polarized lenses. Ideal for true golf fans, this shade of lenses increases contrasts and makes it easier for you to spot the white ball on a green field.

For thrill seekers
Ready to hit the road with your motorcycle? Gear up with a frame like Julbo's Explorer 2.0. These sport sunglasses are designed for thrills, without compromise:
Ergonomic

and

ventilated

frames, perfect for warm summer days.

Equipped with

removable shells

and

adjustable stems

, which are useful for protecting your eyes from bad weather and foreign objects.
#3: Enjoy an incomparable fit
One of the unique characteristics of sport sunglasses is that they fit like no other frames on the market.
Good sports sunglasses will have:
Non-slip nose pads

to prevent the frame from slipping on your nose when you sweat.

Non-slip stems

behind the ears, for optimal support — or a tight-fitting drawstring to secure the sunglasses in place.

Easily adjustable branches

. Unlike standard frames, some of

Julbo

's

sport glasses can be adjusted without being warmed, which means that you can restore them to your desired fit after a fall or shock, without having to go see your optician.
#4: Seeing well when you're active
Many people think that wearing eyeglasses, protecting your eyes from the sun and doing sports can't coexist. But, "If you want to have your prescription inside your solar frames, there's almost always a solution!", says Vanessa Sansregret.
Option 1: An adapter inserted inside the frames
Functions as a clip that fits inside your sunglasses' frame.

Suited for most prescriptions, even strong ones.

The most budget-friendly solution if you have several pairs of sunglasses where you would like corrective vision.

Can be used in ski goggles during wintertime.
Option 2: Your prescription, directly integrated into your lenses
An ideal solution if you only have one pair of sport sunglasses.

More pleasant to wear, especially if you have long eyelashes.
Note that all frames and prescriptions are different. Your optician will be able to recommend the best option for your needs and vision correction.
Purchasing your sport sunglasses
Are you ready to purchase a pair of sport sunglasses for the summer? Check out all our styles, including several frames by Julbo, and also gorgeous sunglasses by Oakley, Maui Jim and Nike. Don't hesitate to book an appointment in a Doyle boutique near you with one of our optometrists or opticians. They will be happy to recommend the perfect pair for your summer outdoor activities!