Dr. Karine Blackburn, partner and optometrist at Doyle Saint-Henri in Montreal, explains it all.
Pediatric eye exams for children aged 6 months to 3 years
Why see a pediatric eye doctor as early as 6 months age?
The pediatrician may recommend that you make an appointment, in order to detect problems early on.
And then what?
After your initial consultation, you should book a new appointment with your child's optometrist if, between the ages of 6 months and 3 years old, your child has one or several of the following symptoms. These signs may indicate that your child has a vision problem.
Your child is easily blinded by light.

Your child blinks a lot.

Your child often rubs their eyes.

Your child seems to have trouble seeing far away.
One of your child's eyes is often closed.

EYE EXAMS FOR KIDS AGED 3 TO 5
How often should eye appointments be made?
Starting at 3 years old, it is highly recommended that children see a pediatric optometrist once a year. Since your child will soon be of school age, an easy way to remember is to coordinate it with back to school! That way, every year in August or early September, you can book an appointment for your child's eye exam.


What are eye exams for children aged 3 to 5 like?
For small children, appointments never last more than 30 minutes, in order to avoid restlessness. You can only imagine how clever kids' optometrists are!

"When they are very small, we use drawings and small colourful objects to perform their eye exams. They don't stay focused for long periods of time at that age! And of course, we ask parents a lot of questions." explains Dr. Karine Blackburn.

Dr. Blackburn adds: "Around the age of 5, it's usually significantly easier. The children are more involved, and most of the time, they are happy to be here!". Children who have already started to read can use letters and numbers. And when they're not quite there yet, colours are always an alternative.

From 5 years old and on, it's also easier to take a closer look at a child's ocular health and see if the rotation of the eye is performed normally.


Why are eye exams important for children between 3 and 5?
Eye exams for little ones mostly serve to detect vision problems. According to our expert, the most common vision problem for kids at that age is strabismus. But sometimes, if the parents have significant problems with myopia or hyperopia, children will also need correction at a young age.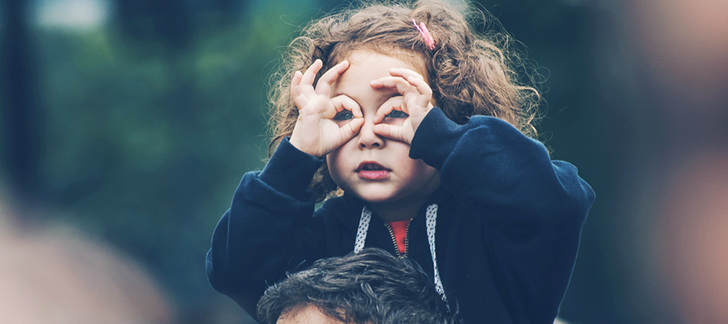 REGULAR EYE CARE FOR CHILDREN 6 AND UP
A yearly eye exam
Starting at 6 years old, an annual eye exam with a kids' optometrist is important. Of course, parents should be aware of any fluctuations in their child's vision and book an appointment with an eye doctor if they have any concerns.

"If something seems to be wrong with your child's eyesight, book an appointment with a pediatric optometrist ASAP!" warns Dr. Blackburn.

At around 8 years old, your child's vision is much more stable. It's also an age when the eyes develop extremely quickly, and it is sometimes possible that previous problems solve themselves on their own.
HOW DOES AN EYE EXAM UNFOLD FOR KIDS 6 TO 12?
Starting at 6 years of age, a children's optometrist can usually examine your child's eyes by making them read letters and numbers. But according to Dr. Blackburn, it's around the age of 8 that an eye exam becomes similar to that of an adult. "We can dig deeper: see the back of the eye, ask the kids to read, and we can use lights."
WHAT CAN an EYE EXAM REVEAL ABOUT YOUR CHILD's EYE HEALTH?
The most common eye problem in older kids is myopia. Since they are still growing, the eye, just like the rest of their body, is subject to elongation, and the chances of becoming shortsighted increase.

What's more, current studies are leading us to believe that prolonged exposure to screens could also increase the chances of becoming nearsighted.
BOOK AN APPOINTMENT FOR YOUR CHILD EYE'S EXAM!
Here at Doyle, our team includes many optometrists, who are all experienced with children. Don't hesitate to book an appointment with one of our eye doctors in a Doyle boutique near you!
Written in collaboration with Dre. Karine Blackburn, optometrist associated at the St-Henri boutique