A Committed Brand
Designed by Doyle opticians, our in-house brand, Atelier78, was born from a desire to better serve the people in our neighbourhoods. We build frames that are truly suited to our clientele's morphology, and offer a perfect fit. Made in ethical conditions, Atelier78 frames boast a remarkable quality. What's more, we are committed to giving back to the community — for each pair of Atelier78 glasses we sell, Doyle donates $10 to the Charles-Bruneau Foundation.
A Touching Story
The partnership between Doyle and the Charles-Bruneau Foundation isn't a coincidence. The story goes back a few years when Jade Peauzé, a new recruit at the head office, learned that her daughter Lily-Rose was diagnosed with neurofibromatosis. Shortly after, the doctors discovered a brain tumour behind the little girl's optical nerve. Thankfully, Jade was surrounded by expert colleagues who answered all her questions.
Lily-Rose embarked on a full year of chemotherapy and will need to be monitored by doctors her whole life. One day a week, for twelve months, Lily-Rose received intravenous treatment at Sainte-Justine Hospital's Day Centre.
"Thanks to the Charles-Bruneau Foundation's involvement, Lily-Rose looked forward to her visits at the hospital — with the exception of the weekly injection!", recounts Jade.
Looking back, Jade realized that the Charles-Bruneau Cancer Centre brings parents together at a really difficult moment in their lives. "This 'second house' allowed us to live moments of great happiness through the pain, moments that were almost euphoric - for instance, on the day of Lily-Rose's last chemotherapy treatment", adds Jade.
During this challenging period, mother and daughter found comfort in knowing that for the past thirty years, the Charles-Bruneau Foundation has worked hard so that children affected by cancer can be cured, and once again, live a healthy life.
Despite a nightmarish situation, Jade and Lily-Rose benefited from the Foundation's invaluable support — their comforting and soothing presence helped the duo get through this ordeal with optimism.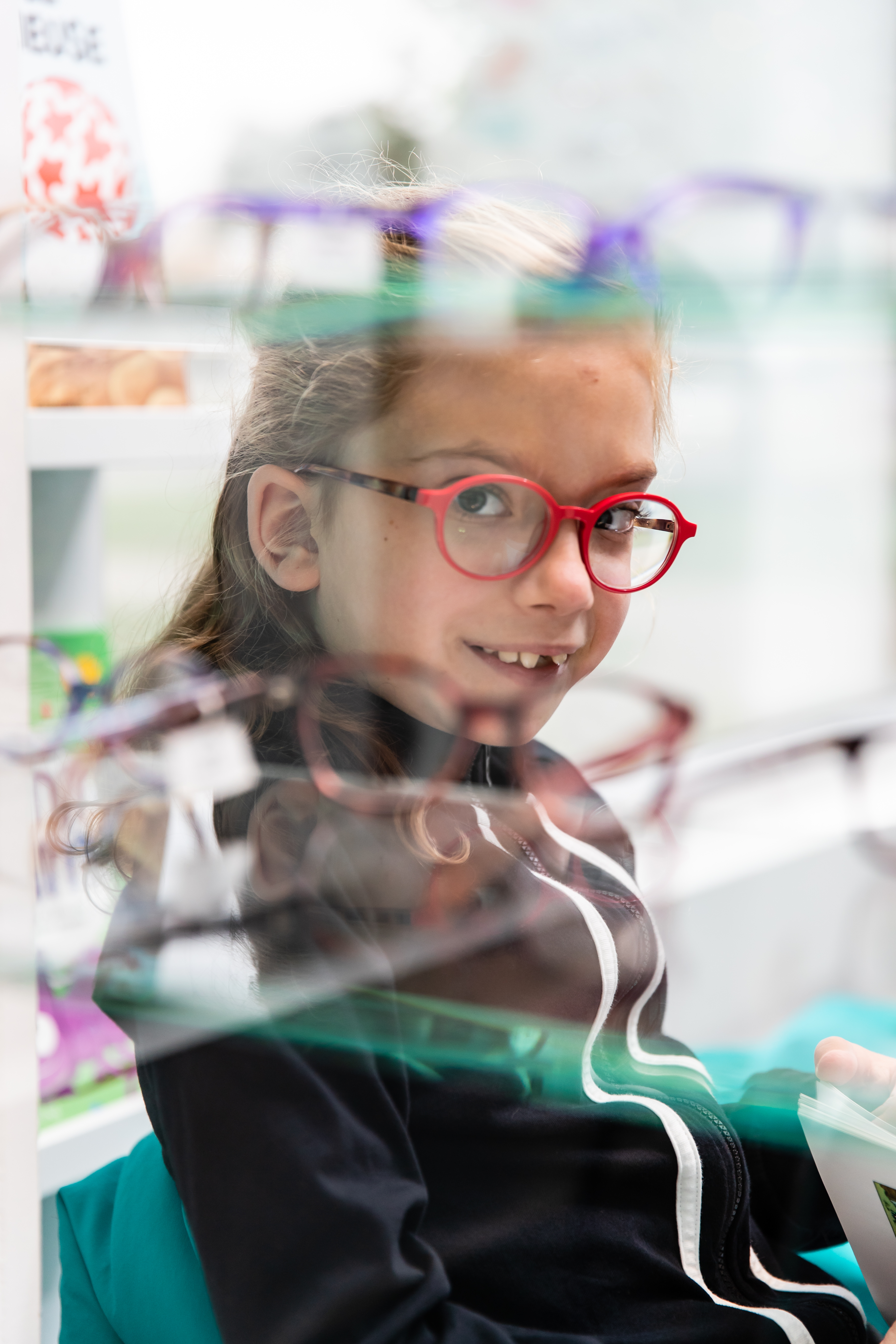 The Will to Help
It was during this tragic situation that Doyle realized the Foundation's impact on families. Both Patrick Doyle and the executive team were particularly touched by Lily-Rose's story. They also learned that many children affected by pediatric cancer have impacted vision. The team was already donating to various charities, but as all team members were sensitive to this one particular cause, they made the unanimous decision to contribute to the Charles-Bruneau Foundation, helping support Jade and Lily-Rose through this ordeal. Eventually, Doyle decided to donate exclusively to this cause, in order for their yearly donation to make even more of an impact.
True Team Pride
Throughout the years, both the opticians working on designing new Atelier78 frames, and the employees working in Doyle boutiques, have become genuinely invested in the cause. Many team members have even visited the Charles-Bruneau Centre to really grasp the Foundation's impact. Every year, Doyle employees are extremely proud to contribute to this cause, and all team members impatiently await the moment when the yearly donation will be revealed.
Increasingly Larger Contributions
Six years have gone by, and Doyle has made a donation to the Charles-Bruneau Foundation every single year — with each donation bigger than the previous one. The first year, the company gave them a cheque for $1,160. Then it was $5,000, followed by $10,000, $15,000, $20,000 and $30,000. This year, Doyle's name will be posted on the wall of donors at Sainte-Justine Hospital — a great honour and source of pride for all their employees. To this day, Doyle has contributed more than $75,000 to the Foundation!
Doyle's Appeal
Proud to announce their 2019 contribution, Doyle invites you to support the Charles-Bruneau Foundation! Because each donation is important and makes a difference, we urge you to help the Foundation offer all children suffering from cancer the best possible chance of recovery, by helping finance research and supporting pediatric hemato-oncology development projects. Discover our latest Atelier78 collection and start contributing to the cause!