Starting her own clinic: the story of Marie-Catheryne, optometrist
In the summer of 2021, 25-year-old Marie-Catheryne Lachapelle was toying with the idea of opening her own optometry clinic. Ambitious and determined, the young optometrist had two years of practice under her belt and was already looking forward to her next challenge with enthusiasm.
Six months later, the young intrapreneur was running her own Doyle boutique in Saint-Sauveur, the town where she grew up, with two dynamic associates at her side: an optician and another optometrist. Here is her story.
Choosing your partners wisely: an important step
"As an optometrist, you don't learn to be a manager in school. Our training is focused on eye care, but not on all the related tasks needed to start a business," reveals Marie-Catheryne. When you aspire to have more responsibility, if you want to start your own practice or if you want to become an optometry clinic owner, the options seem limited. To become an owner, you can attempt to go it alone, or join an independent office or even a banner store (although the latter is becoming less and less accessible to young optometrists!).
For Marie-Catheryne, the choice was clear: she wanted to open her own clinic in Saint-Sauveur. To do so, she wanted to join a group so that she could be well-surrounded and well-equipped. After evaluating her options, Marie-Catheryne chose to work with Doyle. Why Doyle? Because with today's rapidly evolving market, she felt that it is becoming more and more difficult for professionals to keep up with trends and continue to offer impeccable service in optometry. "You need to be associated with a banner store that will be up to speed and Doyle is the group best equipped to do so," explains Marie-Catheryne. But that's not the only reason Marie-Catheryne chose to partner with Doyle! Here's more.
Starting afresh
At the very beginning of her adventure as a clinic owner, Marie-Catheryne evaluated several ways to open an optometry clinic, including the possibility of joining an existing office. But the desire to establish herself in Saint-Sauveur and build her own clientele was too strong, so she preferred to start from scratch with a partner who was truly a good fit for her.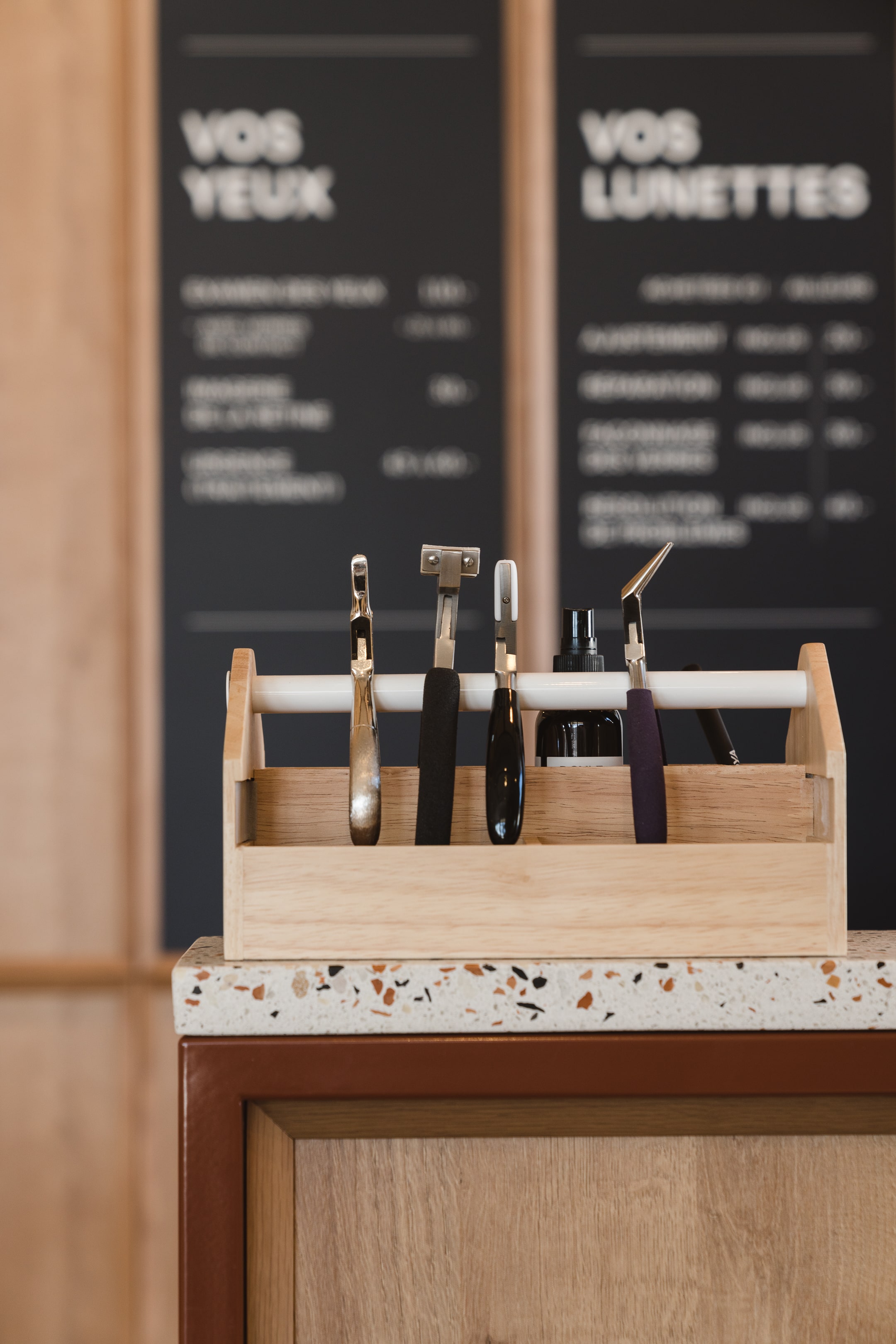 Working at her own pace and in her own way
In thinking about her association with a group, one of the important aspects for Marie-Catheryne is to have the freedom to run her optometry practice the way she sees fit and to feel that her partners trust her way of doing things.
Great eye care above all
For Marie-Catheryne, health care always comes first — it's one of the reasons she decided to study optometry in the first place. So, being associated with a practice whose primary interest is in sales was out of the question. Doyle's approach is centred around the patient and their needs, which seemed more natural, more human and more consistent with her values. From eye care to frame selection, Doyle offers a 100% personalized experience, regardless of the patient's budget. Joining forces with Doyle has also allowed Marie-Catheryne to have more time to take care of her patients, as her administrative workload has been greatly reduced, thanks to the head office's support.
Unwavering support in all departments
Marketing, accounting, legal, purchasing, logistics, inventory, human resources, management - the tasks that come with opening your own clinic are endless. "The great thing about Doyle is that there is a point of contact for all of these areas at the head office, so we have access to experts to assist us when needed and answer any questions we may have," explains Marie-Catheryne.
Innovate as you do your job
Joining the Doyle Group was also a decision based on the desire to innovate. Knowing that in optometry it is essential to be on the lookout for technological advances and respond as best as possible to the ever-changing needs and wants of patients, you must constantly reinvent yourself. And, as an optometrist, you don't have a lot of time to devote to innovation in addition to your regular practice. "It's an invaluable asset to have a team dedicated to innovation within the group, because this allows us to be better equipped and better serve our clientele," says Marie-Catheryne.
Indeed, thanks to state-of-the-art equipment and the latest innovations on the market, Marie-Catheryne can offer customized solutions and products that make all the difference for the well-being of her patients!
From ideation to realization in less than a year
From the time Marie-Catheryne met Patrick Doyle (president of the group) and Karl Brousseau (vice-president of the Doyle Group) to discuss a possible partnership, to the time she proudly opened the doors of her beautiful boutique in Saint-Sauveur in December 2021, less than six months had gone by. Six very busy months!
Patrick and Karl are professionals in the world of optics, as are all the associates of the group. In fact, the group is 100% owned by opticians and optometrists! The duo also knows the Saint-Sauveur area well. They had already identified it as a place to expand, which is why the steps went by very quickly. In less than six months, Marie-Catheryne and the Doyle Group found partners, a location, underwent the legal and administrative procedures, purchased eyeglasses, set up the boutique, hired several employees and much more!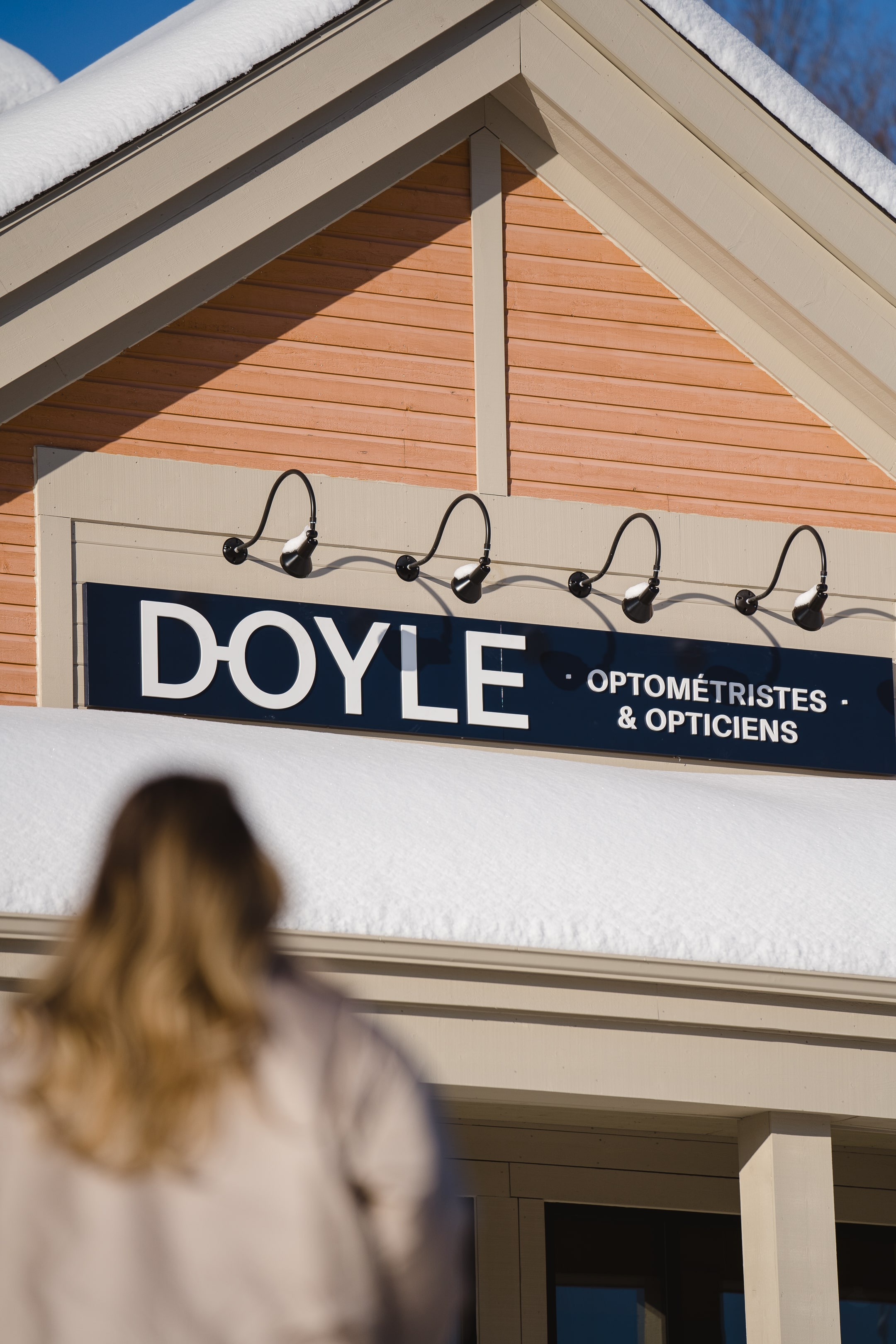 From the signing of the contract up until the opening, Marie-Catheryne was able to enjoy a stress-free experience, knowing that she had an experienced group by her side to support her throughout the process. By coming together, Doyle and Marie-Catheryne were able to create a new venue dedicated to offering a complete eye-care experience to the residents of Saint-Sauveur and its surroundings.
Today, 3 months after the opening of the Doyle boutique in Saint-Sauveur, Marie-Catheryne can only conclude that joining forces with the Doyle group was "the best decision" she ever made. She now enjoys a great deal of independence and is able to practice the trade she loves in a pleasant environment, all with the support of the head office team. At Doyle, we are proud of this 21st store led by a dynamic trio!